"The Long Ride"
By John Marking
The Ride:
The long ride started on a warm Sunday morning from McCain Valley, around 8:00 AM on September 28th, 2003. We finally located the elusive trail that would take us from the top of our local mountains to the floor of the desert. (I have been searching for this trail for the better part of 25 years).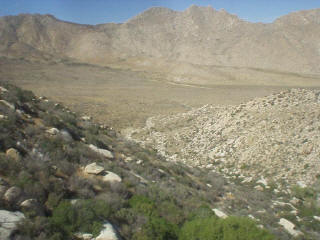 With two friends, Matt and Scott, we started out on what we assumed would be a 4 hour motorcycle ride. Armed with a hand drawn map, the first 12 miles of our ride went quickly. We made the usual number of wrong turns but would eventually pick up the trail again. About mile 13, we encountered a drop down a ditch that was so steep, narrow and slippery; we knew there was no going back. We did not hesitate since we knew this trail would go through to the desert. (First big mistake!)
The next 50 yards of the trail was bad. The ground was so soft we had to push & pull the 3 motorcycles up over a 30 foot hill. At this point we began to scout ahead to search out our trail. After continuing down the canyon another quarter mile, the trail abruptly ended. Since it was not possible to go back the way we came, we had to go down. No problem, we are all experienced riders so we decided to forge ahead, making our own trail. (Second big mistake!)
After another 100 yards of trying to work our way along the side of this canyon, Scott and I decided to ride our bikes down to the bottom of the ravine and work our way through the wash. (Third mistake!) The bottom of the canyon consisted entirely of 10 to 20 foot boulders and incredibly thick brush. At this point we were only 14.6 miles from our trucks!
After a brief discussion, it was decided that Scott's and my bike would have to stay behind while we concentrated on getting Matt's bike down to the dirt road we could see below. The plan now was for Matt to ride out and come back and get Scott and me with his truck.
During the next few hours, we had managed to get Matt's bike another 100 yards along the ravine. We are approximately 200 feet off the desert floor, but at least 500 yards from flat terrain. The going was definitely getting harder. I decided it was time to take a walk to the other side of the ravine to see if I could pick out a route to the desert floor. Once I was able to view our predicament from the other side of the canyon, I realized we were in trouble. The chance of getting any motorcycle out of this canyon was zero.
By now I'm beginning to feel the effects of dehydration and the hundred-degree heat. Although I stay in decent physical shape, I could not walk more than ten steps with out feeling like I would pass-out. My Camelbak was still half-full, however I realized we better start rationing water. Moving very slowly, I crossed the gorge back to where Matt and Scott waited. They were also feeling the effects of dehydration.
We decided there was little hope of getting Matt's bike out of the gorge. Our only chance now was to walk out to the highway, unknown miles away (Fourth mistake! We were only four miles from a campground with running water, although it was all uphill).
I insisted we wait until the sun set behind the Mountain ridge, so we would at least have shade. While Matt and Scott rested, I worked my way up-hill to the first two abandoned bikes. Once there, I looked through all of our tool bags, removing all useful items. Solar blanket for warmth and shade, zip ties to tie up the shade, leather man and the best thing you can have when you are out of water, Chapstik! Somehow I managed to leave the lighter (Fifth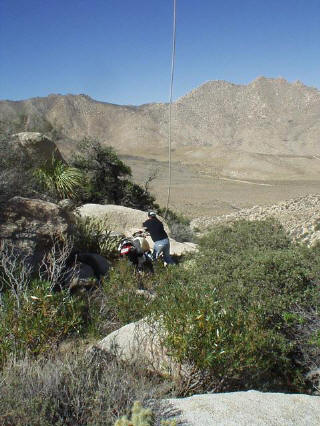 mistake!).
After returning to the group, and a brief thirty-minute rest, we set off for the dirt road below. After two miles of hiking we began to realize the highway was farther than the four miles we had estimated. In fact we would find out later it was closer to ten miles. As the sun began to set behind the mountains, we began to run extremely low on water. We kept walking until we could no longer see the road. We sat down for a brief rest and to discuss our options. I felt sure we would not make the highway in the dark as the sliver of moon set at 8:31 PM. I felt our best bet was to conserve as much energy as possible and hope for an early morning rescue. Using our solar blanket and zip ties for shade, I was guessing we could survive at least until midday without water.
As we continued to rest, lying on the dirt road, it became apparent to all of us the dire straits we were in. The question asked over and over was; how could three guys with so much desert experience get in the kind of trouble we were in. Unspoken, but on all our minds, were the recent deaths of two off-roaders. Their buggy broke down and they were forced to try and walk back to their camp. They died of de-hydration two miles from their camp.
We used up the last of the water at about 10:00 PM. I was suffering from violent cramps through-out my entire body. A bad sign for sure. I spent the remaining part of the night trying to ward off the cramps and keep my heart rate at a reasonable level. I knew that most de-hydration related deaths occur from heart attacks. Because they knew I was in bad shape, Matt or Scott would occasionally suggest walking out, but I was not going to budge. I felt sure the trail would be lost in the dark, making rescue unlikely. After a very long miserable night, the dawn came slowly. It was an incredible sight. I was quite relieved to make it through the night intact. Now the real test began; to survive as long as possible in the desert with no water!
The Rescue:
Usually we arrive home from our Sunday morning rides at about 1:00 PM. By the time 3:00 PM rolled around, Matt's wife Elaine was calling my wife Gretchen, looking for us. At 4:00 PM they started worrying. Gretchen called my Brother-in-law Gary, who lives in Boulevard, to have him check to see if our trucks were still in the parking lot. Upon finding they were, the alarm went out. Gretchen called the Sheriff; they dispatched a unit to meet Gary at the trucks. Our good friends and neighbor, Bob and Cheryl, set up a relay using their cell phone on a nearby hill, near the trucks.
After hearing the situation, the sheriff called in their helicopter to start searching the local canyons. After searching for an hour and a half, they ran out of light. The Sheriff on scene tried get the night vision helicopter to take over, but was denied. His superior told him to file a missing persons report. To make matters worse, due to Fog in the mornings, they would not be able to resume the search until 11 AM the following day. The Sheriff on scene, made one of many calls to the Campo Border Patrol for help.
Jeff Morrison, of the Campo Border Patrol, who was called in by Matt's neighbor (also) Matt, was given Bob and Cheryl's cell phone number. He called Bob to get the facts and told him they would be up to the scene shortly. After sending agents to the scene and assessing the situation, they sent in BORSTAR (Border Search, Trauma and Rescue), their search and rescue division. They arrived at the trucks at 9:00 PM. They showed up with Quads, Hummers, a mobile command trailer, and laptops with 3-D maps of the surrounding terrain. They clearly were not messing around.
By 11:00 PM the BORSTAR Team had take a picture of a tire track in the back of Matt's Truck and used it to track us to the top of the gorge where we were stuck. At this point they donned packs and followed our tracks until they reached our bikes at 4:30 AM. Now they knew our direction of travel, so they called in the El Centro BORSTAR to drive up from the bottom of the canyon.
These were the two headlights we saw driving up the very dirt road we had been laying on. Words cannot express the relief that washed over the three of us. They rolled up and asked if we were okay. We said we were fine as long as they had water. They handed us each a gallon. After loading us up their truck, we were taken to the town of Ocotillo were our friends were waiting. Bob, Cheryl, Gary and Jerome had been up all night waiting for this moment. It was a great reunion.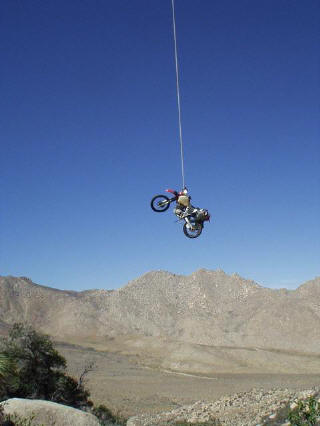 After another two gallons of Gatorade, we were off to retrieve our trucks. We briefly met the various members of the border patrol team as they were pulling out of the parking lot. There were a lot of them and it was obvious they also had a long night.
I cannot say enough about the Border Patrol and the BORSTAR division. Were it not for them, I don't believe we would have made it. The Sheriff helicopter was not due on scene until 11:00 AM. Since we didn't actually tell anyone where we were going, they were going to continue searching an area twenty miles to the south of us.
At this point, the three of us went our separate ways. Bob and Cheryl dropped me at my house for my reunion with my wife Gretchen and Son Bryce, whom I thought I would never see again. If you have experienced a reunion like that, you know mere words cannot describe. It didn't take long for my adrenalin to wear off. After fighting it for an hour or so I was off to the hospital, where I was given three thousand milliliters of Sodium Chloride through an IV, almost a gallon of fluids! After numerous scoldings, I was sent home to ponder how lucky we were.
The Lessons Learned:
When we ride down the length of the Baja Peninsula, we are always prepared. We carry Sat Phones, Handheld GPSs, Cell Phones, and usually one or two radios. We leave maps of where we are going and call home when we can to check in.
We took none of these precautions on what we assumed was a forty mile roundtrip ride. That will not happen again. Part of our survival was common sense but most of it was just plain luck. Lucky our family and friends took matters into their own hands and demanded action. Lucky our friends knew to call the Border Patrol and BORSTAR. Lucky the Border Patrol knew we wouldn't last long in the desert. Lucky the BORSTAR folks had the drive to get the job done!
The Bikes:
In case you are wondering, we had to hire a helicopter to air-lift the bikes out of the canyon. It took about a thousand dollars to get all three bikes out, but it was the best money I've ever spent! Our thanks are with Mel at Utility Helicopters and Mark Brink for the assistance.
Conditions for Sept. 28th:
High 102°
Low 72°
Sunset 6:37 PM.
Moon set 8:31 PM.
Border Patrol Contact Numbers:
San Diego (Ocean to the east edge of the mountains) 800-808-8727
El Centro (Bottom of the mountains to Yuma) 800-901-2003
Yuma (Yuma to the East?) 877-520-7670